" Saya Sebuah Blog "
"I love my country, only do i hate the slobs who lead it to - Astray"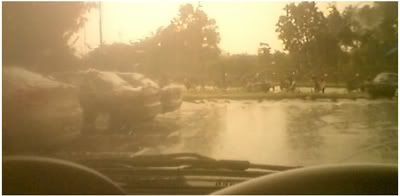 Rainy day has never fail to associate me with sorrows & loneliness
Saya dilahirkan di sebuah minda yang tidak mahu dipenjara. Oh, puitis sungguh. Saya berumur, ermm, biar saya kira.. satu, dua, ah sape pedulik. Tuan saya seorang yang penyayang lagi berkaki lebar, err maksud saya, berkaliber. Kami gemar menghabiskan masa lapang kami dengan menonton Cerekarama dan juga termenung di tasik-tasik sambil mencari ilham untuk meng-pinpoint dunia. Tuan saya mempunyai suatu persepsi yang sangat berbeza tentang dunia, sekurang-kurangnya saya fikir begitu.
Setelah hampir xx tahun kami bersama, saya mulai terasa perubahan-perubahan terhadap layanan yang saya terima, kami tidak lagi makan semeja seperti dulu-dulu. Malahan adakalanya beliau juga bertindak kejam dengan meniggikan suara beliau terhadap saya.
Raizzen's Note of Oblivious :
I cant proceed, the more i do, the more the seeming puke would seem inevitable. Its just that i've just suddenly stumbled upon the cluster of my primary school memories, in which, this nature of writing is my favourite and my advantage.. or so i would like to think. Notice how the end of this type of composition will typically be the demise of the narrator. How childish, LOL.
Oh, reminiscence is schweet.