Something You'll Never Grab A Grasp Upon.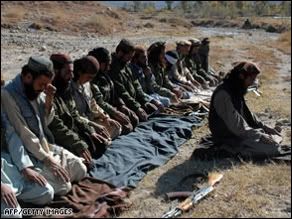 Am interested in this article written by
Kazi Mahmood of World Futures. Article here.
Mr. Mahmood was asking - Did the Talibans actually have the military strategy and force to conquer Afghanistan post Soviet period ? Mr. Mahmood, For your information, they were war veterans gathered from all over the world's fronts. So do they ? Yeah maybe you thought they were still using catapults to destroy the vast forces of the Soviets. This sort of analysis helps you know, in getting the US and Nato forces into thinking how the Talibans are a bunch of monkeys who still pop stones and sticks to create fire.
The Taliban, using its diplomatic channels, tried everything they could to prevent the American invasion.
Oh yea ? I don't think they tried hard enough. I mean if they so much cling to the powers, the simplest way would be to hand over Osama to US and you stay in. Even if they did try it from the diplomatic point of view, it's because they fear for their citizens' lives. But then again, being people of great principles, turning Osama in is like turning down the Ummah as a whole.

What are our values in the face of the Ummah's future Mr. Mahmood ? Collaterals. Nothing more. Get Leadership 101, somehow some where in the grueling reality of your career, sooner or later you'll be faced against difficult decisions which shall require a firm say, and priorities rightly set. But maybe even the course itself would prove to be too mentally challenging for the person you stare in the mirror every morning.

Of course those were indeed tough choices, but shots have been fired and tears already dried. Here we are 8 years on, is the US winning ? Has any of the one too many Osama and Mullah Omar's glimpses transcended into their physical equal ? Dont bother thinking from this perspective, seriously, you'll require a lifetime of healing dosage to your brain cells.

And I feel inclined to clarify this. Taliban did not abandon Kabul because they were scared stiff of the US and the chicken shits Northern Alliance forces coming at them, NO. Simply because the US were so brave they endlessly shell remorseless bombardment on Kabul for 3 days and nights on the helpless citizens of Kabul and how the gruesome numbers of casualties increase like Bush's idiocy as he speaks. That was why they chose to retreat and fight the war another day. Yea, they lost the battle. But heh, the Nato idiots and the US are the ones that are losing the war.

Every day the Talibans grow into some very fearsome adversaries the US has had to encounter. And each passing day serves as a very painful lesson for those who learn. Numbers and tanks wont save you from these mountain monkeys you perceived, idiots. Its God. And only Him.

I guess that explains why lights travel at a much faster speed than the sound. You look bright a couple of seconds before you made a sound.

With all due disrespects, please Mr. Mahmood, don't open your mouth. You'll at least appear smart for a few dying stints.