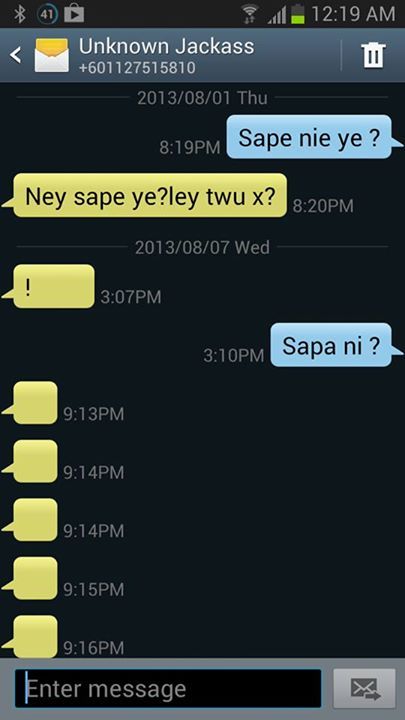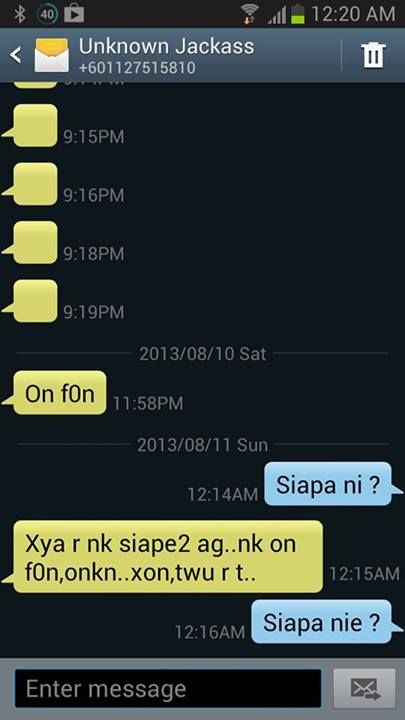 I have been receiving these annoying calls and texts that started up a little bit like this...
The phone rang. I answered and it was a lady. The first thing she asked was "Who's this ?"
I was pretty amused yet a little pissed, hence I retorted, initially planning to shoot off my mouth due to the audacity on her part but successfully toned down my reply to "You were the one who called me, I should be the one who asked you the question"
That was a week when I made a whole lot of inquiries regarding the online sales for a Plasma television set that I have been dreaming to set on the wall of my bedroom (and my living room when I move out of the house, but more on that later). So I suspected it was one of the seller. But later events unfolded prove it was none of my initial suspicions.
So the little drama ended just like that. And I thought that was the last I was gonna hear about it.
A few days later I received a couple of calls from the same digits. Annoyed I ignored most of them. And when it's become too rampant - too many calls and consecutive blank texts, I asked her "Who's this ?"
And her reply was even shorter or non existent. I have to admit having a stalker cum admirer do has its perks. Boosts my ego like no tomorrow.
But this is getting annoying. She called me again just now, and yet again due to my malas-ness nak angkat, I texted her, after ignoring the call. "WHO IS THIS ?"
What comes next really got on my nerve. She had the gall to tell me "Don't ask too many questions, just turn on your phone, you'll know"
I was like, firstly, the phone has always been on. Secondly who the fuck are you again ? So in my attempt to infuriate her, I asked her - AGAIN - WHO IS THIS ?
I could really use some ideas right now on how further infuriate it.
Yes. IT.